2009 Toyota Hilux Turbo Diesel Special Forces Truck
What do pickup trucks operated by US Special Operations units and Transformers have in common? They're "more than meets the eye."
When it comes to blending in, there isn't a better vehicle to do it in than a Toyota Hi-Lux, the foreign variant of the Toyota Tacoma that is sold in mass numbers around the world due to it's affordability and reliability under even the most extreme conditions.
While that "average" Toyota pickup or SUV is ubiquitous in the Third World, the one's operated by America's finest have a little more under the hood- and unlike most HiLux or Series 70 Land Cruisers, they get to be imported to the United States for a little tweaking.
An Ohio-based company known as Battelle packs tons of armor, electronics, radio and other packages to the vehicles, which turns a 3,130-pound truck into one weighing over 8,500 pounds.
Completely stripped down the moment they get to Ohio, the 'Yotas have around one ton of armor slipped into every conceivable gap in the frame, as well as bulletproof glass that has a bluish tint to it.
While the wiring on a Toyota is already robust, Battelle ups the ante by completely rewiring the trucks with a heavy-duty electronics suite, capable of handling everything from satellite communications to surveillance systems.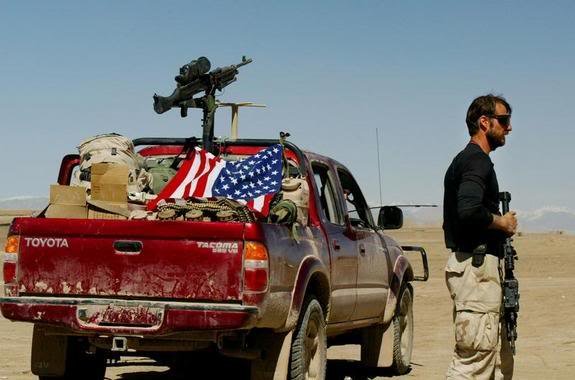 If that doesn't pump you up, the company equips all the workhorses with run-flat tires, capable of getting "off the X" when trouble tries to deflate US operators on the move.
According to Popular Mechanics, the trucks cost about $305,000 per vehicle and are part of a $170 million contract, with over 556 vehicles authorized for production.
When it comes to keeping our boys safe behind enemy lines, you definitely get what you pay for.
© 2018 Bright Mountain Media, Inc.
All rights reserved. The content of this webpage may not be reproduced or used in any manner whatsoever without the express written consent of Bright Mountain Media, Inc. which may be contacted at info@brightmountainmedia.com, ticker BMTM.